MOST BEAUTIFUL CHURCHES IN THE WORLD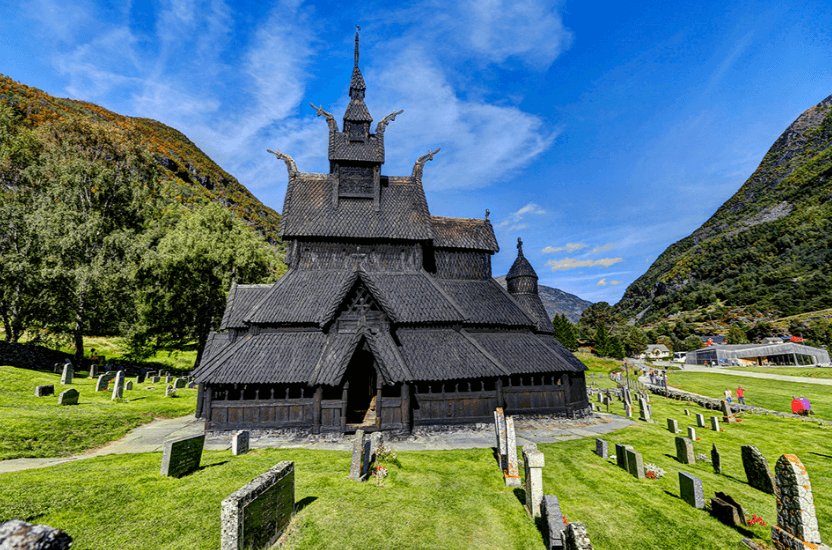 Churches are symbolic in the world as they can be used to trace the history of a community, a society, pilgrimage or even a civilization. Like the La Lajas Sanctuary in Colombia that is at a height of 100m above sea level on the Guaitara River became a church due Virgin Mary appearing in front of a deaf child with her mother. In this article we are going to review the world's most beautiful churches. They are:
Borgund Stave Church, Norway
This is an iconic church in Norway due to it being built in 1180 an arena which churches were symbolic with wooden frames that most of the times were rotten due to cold and snow. This church was built on stones and timber. Timber was used to make the ceilings mostly. Because of this church stood out from the rest.
Bethlehem Church, Iran
This church is truly magnificent and iconic due to being one of the foremost churches in the history of Christianity. It has 72 exquisite paintings that include depictions of the Expulsion from the garden of Eden and the Last Supper. It is truly exquisite.
Notre Dame du Haut Chapel, France
This exceptional church is commonly known as "our Lady of the Summit" this is due to being a pilgrimage site from the 18th Century. During 20th Centutry, it suffered severe damage from bombings during the 1944 liberation. Le Corbusier an architect decided to design a new chapel for it. Up to today it still stands strong.
Viscri Fortified Church, Romania
Lutheran since the reformation. It was initially a chapel but nowadays it is a single-nave church. The interior is plain with bare pews, a narrow aisle and a dark wood wall paneling. It forms part of the Romanian villages that are a Unesco World Heritage site.
Gergeti Trinity Church, Georgia
It is found below the summit of Mt Kazbegi and this makes it a truly awesome church. It has a separate bell tower. It is a navigation point for trekkers. During the Soviet era, religious services were banned on the it but they resumed after the era.
King's College Chapel, Cambridge
The location of this chapel makes it awesome for those syrupy Christmas services. You may run into students though. It was King Henry VI's college chapel in 1446. It has the world's largest medieval stained glass and fan vault. It was used as parade found for troops Cromwell during the civil war.
Church of St Georgia, Ethiopia
Yes, Ethiopia also has iconic and beautiful churches. It is 1 of eleven monolithic hewn from one rock churches in Lalibela in Ethiopia. King Lalibela intended it to be the 'New Jerusalem' for Christians who were having a difficult time in the middle east due to constant Muslim conquests. It has since been a vital worship place for Coptic Christians.
St Bartholomew's Lake Konigssee
Bavaria, Germany also has a pilgrimage church and it is only accessible by boat or through a very long hike. In 1134 a building was built on the site but the red roof and onion domes were added during a rebuilding in the 1600s in the Baroque style.
Hallgrimskirikja, Iceland
Influenced and inspired by Iceland's basalt lava flows, the church of Hallgrimur stands seventy-three tall above Reykjavik. It took 38 years for this church to be completed and that was in 1945.
Russian Orthodox Church of Mary Magdalene, Jeruasalem
This magnificent church has ties to the British Monarchy, it was consecrated in 1888 and it can be found in the slopes of the famous Mount of Olives. It is a piece of Muscovite architecture. Prince Andrew of Greece rested here on his final day.
Sagrada Familia, Spain
It has a Roman Catholic place of worship and was designed by Antoni Gaudi. It is a tourist place to the Catalonian City. Work began on the church in 1882. The funny and odd thing about this church is that it is in a permanent uncompleted state as half of it is covered with cranes and scaffolding. It is a Unesco World Heritage Site.